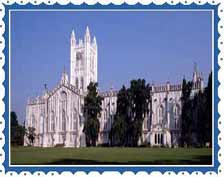 Location:
southern end of the Maidan
Period of construction:
1839-1847
Dedicated to:
St. Paul
Calcutta St. Paul's Cathedral is the first Episcopal Church of the Orient. Bishop Wilson patronized the construction of this beautiful church in 1839. The credit for the awesome designing of this Indo-Gothic architecture goes to Major W.N. Forbes. The work of establishing the St. Paul Cathedral of Kolkata, India got completed in 1847. It is situated at the southern end of the Maidan. Read on to know more about the Saint Pauls Cathedral…
The church got destroyed due to the earthquake of 1897 and then it was renovated. But, the earthquake of 1934 led to the collapse of the tower and eventually it was rebuilt on the lines of the Bell Harry Tower of Canterbury Cathedral. It is 247 ft. in length and 81 ft. in width. The main hall of the cathedral is very large containing splendid carved wooden pews and chairs. Its eastern walls are covered with the mind-blowing colorful artwork.
The church is located within huge grounds, where you can also find a meditation point that has been set up in the recent times in collaboration with distinguished citizens of Tagore's Shantiniketan. The beautiful pictures describe the life and works of Saint Paul. The atmosphere of this cathedral is very tranquil. The architecture and the interim of the Saint Paul Cathedral is truly a feast for eyes.