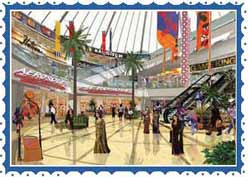 Calcutta is indeed a happening city and when it comes to entertainment in Calcutta, the city of joy has a lot of choices to offer. Kolkattans are very talented people and have an artistic flair. Calcutta is infact very famous for its cultural activities then be it theatre, music, dance, art or poetry. Read on to know more about Calcutta entertainment and how to enjoy in Kolkata…
Cultural programs held on a daily basis, are listed in the daily newspapers of Calcutta. The cultural fests generally include dance performances, poetry reading & drama and are usually hosted at the Rabindra Sadan on Cathedral Rd. Nandan complex nearby and other cinema halls in Chowringhee show foreign films. Drama performances in English are very common and mostly take place at the Kala Mandir, 48 Shakespeare Sarani and musical events are usually held at the Sisir Mancha, 1/1 AJC Bose Rd.
Bars & Discos
There are a number of bars and discotheques, where you can go and enjoy.
Bars