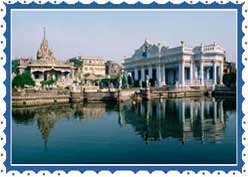 Location:
northeast of Calcutta
Year of construction:
1867
Pareshnath Jain temple is a very famous temple of Calcutta that was built by an art connoisseur named Ray Badridas Bahadur in 1867. Located in the northeast side of the city, Calcutta Pareshnath Jain temple is a mind-blowing place of worship, the beauty of which is enhanced by mirrors and colored stones. It houses four different temples, out of which the main temple is established in the honor of the 10th Jain Avtaar, Sri Sital Nath Ji. There is a small stream over there, which is covered by gorgeous flowers on all sides. Pareshnath Jain temple of Kolkata also contains a cozy greeting room and a museum. It is a splendid edifice that consists of mirror inlaid pillars and its windows are made from stained glass. Floral designs further adorn the marble flooring. It also has a garden that contains the blocks of glass mosaics and awesome European statues. In a nutshell, it can be said that it's a must visit tourist attraction religious destination.