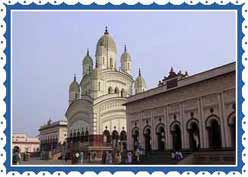 Location:
Bank of the Ganges, north of Belur Math in Kolkata
Dedicated to:
Goddess Kali
Founded by:
Queen Rasmani of Janbazar
Year of establishment:
1847 - 1855
Dakshineshwar Kali temple has an interesting story. The construction of this fabulous temple was initialized in the year 1847 and got completed in 1855. The credit for the formation of Calcutta Dakshineswar Kali temple goes to the queen Rasmani of Janbazar. Located on the bank of the Ganges, north of Belur Math in Kolkata, it is dedicated to Goddess kali. It is a spacious temple covering an area of about 25 acres.
Ramakrishna Paramhansa, the famous spiritual leader is also associated with this temple, as it was over here only that he had worshipped Goddess Kali and formed a rare form of love for her, which is popularly known as maha-bhava in Hinduism. Read on to know about the history of Dakshineshwar Temple Of Kolkata, India.
The legend associated with the establishment of the temple suggests that the queen Rasmani was all set to leave for the sacred city of Banaras to worship the divine mother and seek her blessings. During those times, going by boat was the only feasible option, as there were no railway lines between Calcutta and Banaras. But one night before, it happened that divine mother kali appeared in the dreams of Rani Rasmani and instructed her to construct a beautiful temple on the banks of the Ganges River and install her idol in it. She also said that she would manifest herself in the image over there and accept her devotion. It is one of the largest temples in Kolkata.