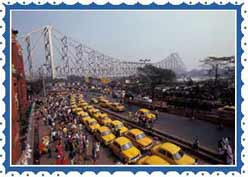 In this article, we will provide you with the Calcutta public transportation guide that will enable you to know about the different means & modes of transport in Kolkata. Calcutta is a big city and there arises a need to rely on means of transportation for moving from one place to another.
Buses
There is a complete chaos in buses and therefore the ride is not very relaxing. A better alternative is the slow moving trundling tram that circles the city. It covers the stops at Park Circus, Sealdah Railway Station and Howrah. They charge nominal fares starting from Rs 3. They provide services from 4 am till 11 pm.
Metros
Metro system was initialized in Calcutta in 1984. It has helped a great deal in sharing some congestion on the streets. There is one track that covers the entire city from Dum Dum train station (north) to Tollygunge (south). On the metro station, TV screens keep the commuters busy.
Taxis
Taxis provide a 24 hour service and the best thing about Taxi drivers in Kolkata is that, they are very honest and always put on the meter.
Ferries
Ferries cover short distances across the river Hooghly and they run every few minutes.
Rickshaws and Auto-rickshaws
Rickshaws and auto rickshaws can be more commonly spotted around the market areas.