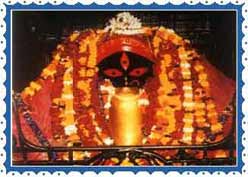 Location:
Banks of river Hooghly
Dedicated to:
Goddess Kali
Located on the banks of river Hooghly, Kalighat Kali temple is a very famous temple of the city of joy i.e. Calcutta. It is dedicated to Goddess kali, who is believed to be the destroyer as well as liberator. Every year, it has been attracting more and more crowds. Infact, Calcutta Kalighat Kali temple has come in the top list of must see tourist attraction places. For Hindus, Kali temple at Kalighat, Kolkata is one of the most sacred pilgrimage destinations.
There is an interesting legend behind the formation of Kali temple, which suggests that when Lord Shiva was furiously performing his dance (Pralay), keeping the corpse of Goddess kali on his shoulders, his spinning wheel sliced off her dead body. Her body slices fell off at different points, where pilgrimage centers were formed later on. Kalighat temple is one such pilgrimage spot, where a toe of her right foot had fallen. It is during the months of Bhadra, Paush and Chaitra (according to the Bengali calendar) that Kali temple at Kalighat turns into a convergence point for devotees from al over the world.