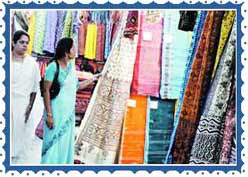 The ethereal city of Kolkata is jutted with numerous intriguing shopping avenues. A shopaholic's dream come true, Kolkata offers a shopping spree that feels more like a treasure hunt with meandering alleys, large glistening malls and numerous street vendors all decked with the choicest of items. The capital of West Bengal, pristine city of Kolkata is situated on the banks of the azure River Hooghly. The old world British era charm of the city is still intact in the form of the Howrah Bridge, Victoria memorial and various other such monuments. Despite being a major metropolitan, Kolkata has the lowest rate of inflation in India, which makes it a magnificent destination for all kind of shoppers.
The true colors of the City of Joy, as Kolkata is lovingly called by one and all, can be seen during the extravagant six-day festivities of Durga Puja, organized as per the auspicious Hindu calendar. The festival usually falls in the months of October and November as per the western calendar. During this time, the entire city is decked in festive colors and people shop for everything under the sky, ranging from novelties, garments, antiquities, arts and crafts, jewelry, perfumes, etc. People from all over the country visit the city at this time and become a part of this festive carnival, Durga puja pandals, shop till they drop and then get up and shop some more.
What to Buy?

Bankura Horses
A pair of Bankura Horses is certainly worth buying whenever you are in Kolkata. This traditional art form finds its roots in Bankura District of West Bengal and is a wonderful specimen of Bengal craftsmanship. The pottery is made out of terracotta. These clay masterpieces have erect necks and pointed ears that make them look quite dramatic.
Masks
Kolkata displays the finest of art of West Bengal. And striking masks are one such art of the region. Paper Mache masks depict mythological creatures, right from deities to demons. They are made from paper dipped in clay and pasted over a clay model. Once the mask is dry, it is removed from the clay model and painted in various vibrant shades. These masks are used in folk festivals and as home décor items as well. They are generally made in Purulia district.
Brass and Bell Metal Works
Another must acquire souvenir, when in Kolkata, is its brass and bell metal work pieces. This is a traditional handicraft of the region of West Bengal handed down from one generation to another. One can find utensils of everyday use as well as once used in prayer ceremonies, displaying this art. Small brass decorative trinkets are also quite famous. "Pai", in which engraved bass work is done on the wooden bowls, is a must buy product of the region.
Dokra Metal Casting
This is the indigenous metallurgy art of the Dhokra Kamar tribes of West Bengal. The products produced through this technique have a charming rustic look that has made them very popular in India as well as abroad. Craftsmen usually make figurines of deities, sacred animals as well as birds. Jewelry pieces, like necklaces and bracelets made by Dokra are also quite exquisite along, with various decorative pieces.
Terracotta Tiles
This, indeed, is one of the most ancient forms of Bengali art. Earlier, terracotta tiles were only used for festooning religious sites, like temples; however, today one can get intricately carved terracotta pieces adorned with magnificent motifs in the form of various products of home décor, such as ashtrays, pen holders, cactus pots and tiles, etc.
Kalighat Pats
These are a type of ethnic paintings, drawn on paper by artists called patuas, who are settled near the well known Kali Temple at Kalighat, in Kolkata. Many unique specimens of this art form have found places in various European museums. Most of the paintings are based on mythological tales or on epic characters. The multicolor vibrancy of these paintings makes them quite eye pleasing.
Kantha Embroidery
This running stitch intricate embroidery can be found on dhotis, sarees, dupattas, bedding, etc. in Kolkata and is one of the must buy souvenirs of the city. This embroidery is usually done on silk and cotton fabrics, which are two of the most liked fabrics of the region and are available at pretty reasonable prices compared to anywhere else in the country.
Where to Buy?

Maidan Market
As the name suggests, this huge market is placed on the Bentinck Street. Here, one can get all kinds of sports equipment, imaginable, in the 'City of Joy'. The market is open throughout the week and one can get numerous kinds of bats as well as balls, along with a good variety of nets and goals. Sports specific shoes and attires can also be found here.
Sir Stuart Hogg Market
Popularly known as the New Market, it is placed inside the large red brick building in the Esplanade. One can look for various traditional delicacies of Kolkata and different traditional handicrafts of the region, such as pottery, jewelry, garments and items of daily use.
Shreeram Arcade
This market is spread over four floors and has around 275 neatly decorated shops. It is placed opposite Light House Cinema in Chowringhee area near the central transport point, Esplanade. It is famous for textiles, readymade garments, electronic items, etc. and is equipped with capsule elevators and sparkling fountains that make shopping a pleasurable experience.
Burrabazar Market
This market is placed on the MG Road of Kolkata and has the distinction of being the oldest wholesale/retail market of this city. If one is looking to buy products, such as textiles, cereals, food grains, spices, dry fruits, edible oils, sugar, salt and other groceries at wholesale prices, this is the place to drop in at.
Dakshinapan Market
This is an elaborate multistory marketplace that houses various state emporiums from where you can get genuine handlooms, textiles, handicrafts, imitation jewelry, fancy goods, etc. The market is located adjoining the Nazrul Mancha, near the Dhakuria flyover.
Gariahat Market
If one in adept in the art of bargaining, then this is the market to visit, where all items, right from textiles to readymade garments and electronic gadgets can be found under one roof at negotiable prices. Besides this, the makeshift shops located on the sidewalks give it an old world charm. It is placed on Rash Behari Avenue and Gariahat Road Crossing.
College Street Market
This market is also known as the BOI PARA (Book Market) and is a testament to the widespread reading culture of the people of this city. This market is a paradise for book worms, as most of the book shops and book publishers of the region have their outlets here. Other than this, one can also buy leather goods, footwear, saris, musical instruments, etc. from here. As the name foretells, the market is placed at College Street.
Some other worth visiting shopping avenues of Kolkata are: