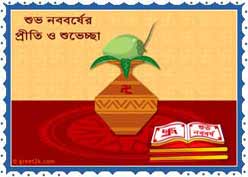 Time:
first month of Bengali calendar, Baishakh (April)
Significance:
it is basically a harvest festival that celebrates the beginning of crop cycle in Bengal
Calcutta Poila Baisakh festival is basically a harvest festivity that marks the beginning of the crop cycle in Bengal. It takes place in the first month of the Bengali calendar, Baisakh (April). Poila Baisakh is celebrated with magnificent grandeur. The first day of the month of Baisakh is known as Poila Baisakh and is celebrated as the Bengali New Year. It is on this day that wherever you go, you are offered yummy sweets.
Poila Baisakh festival of Kolkata, India witnesses the inauguration of the new books of accounts by the traders. This month is considered auspicious for the purpose of marriage and starting a new venture. The month of baisakh marks the beginning of agricultural activities. Bengalis are of the belief that children born in this month are likely to possess the qualities of a genius. The perfect example is that of Rabindranath Tagore who was born on the 25th in the month of baisakh.
People dress up in their best apparels and share joyous moments with friends and family. Houses are not only cleaned thoroughly, but also beautifully decorated. Women make awesome rangolis at the entrance of house. On this festivity, cultural programs are held. People greet each other and exchange sweets. Prayers are conducted to seek the divine blessings.