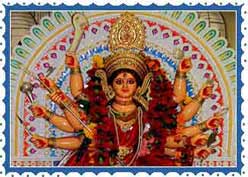 Time:
September-October
Dedicated to:
mother Durga, the goddess of power (Shakti)
Puja of Ma Durga is a major festival of Bengalis, for which they keep waiting the whole year. Calcutta Durga Puja festival is celebrated on a large scale with great pomp and gaiety. It is celebrated to worship mother Durga, the Goddess of power (Shakti). It celebrates the victory of ma Durga over the demon Mahishasura. Durga Puja of Kolkata, India usually takes place during the autumn period from September-October. The weather is pleasant, giving air a festivity touch. Though the festival of Durga puja is celebrated throughout Bengal, but it is special in Kolkata. Durga puja involves the performance of a long series of rituals. Every day starting from the day of the Mahalaya, the days of Sashthi, Saptami, Ashtami, Navami and Dashami or Bijoya Dashami has its own set of rituals. Durga puja is a time for socializing with friends, family and relatives. People dressed in their new clothing, visit pandals, eat mouthwatering food and enjoy the drumbeats. It is truly the best time to catch up with your old friends. Indians abroad send
gifts to Kolkata
in large number and the locals also distribute sweets and exchange gifts with the loved ones.