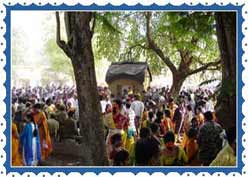 Time:
March
Significance:
to celebrate the arrival of spring season
Highlights:
people smear colors, spray colored water, and drink bhang
Calcutta Dol Purnima festival is celebrated to give a warm welcome to the spring season. Basically, Dol Purnima is like Holi festival, in which people smear each other with different colors and also spray colored water on the people passing by. It is on this festivity that people get together and share joyous moments. They drink bhang, i.e., a mild milk beverage laced with marijuana. The best part about Dol Purnima festival of Kolkata India is that, on this day, people break all social barriers of caste, creed and religion. Poor touch rich and lower caste meets and greets upper caste.