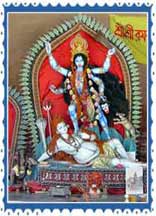 Time:
October-November (2 weeks after Laxmi Puja)
Dedicated to:
Kali, the Goddess of destruction who protects from evils
Calcutta Kali Puja festival is another important occasion that takes place two weeks after the celebration of Laxmi puja.
Kali puja
is performed in the honor of Kali, the Goddess ofdestruction. People worship Goddess Kali with the belief that she will protect them from evils. Also, she symbolizes strength. Puja of Ma Kali is conducted at midnight on the day of the new moon in the month of Kartik. Kali Puja of Kolkata India usually coincides with Diwali. It is celebrated with splendid grandeur. People light candles, burst crackers, dress up in good clothes and offer prayers to mother Goddess Kali.