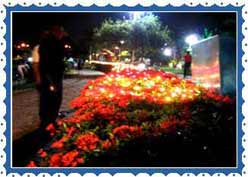 Calcutta Nicco Park, situated at Salt Lake, is an amazing amusement park. It can be said about the Nicco Park of Kolkata, India that, it is like the Disneyland of West Bengal with lots of wonderful games and rides. Its most recent addition is the Cave ride that is very interesting and adventurous. It is a spacious park covering about 40-acre land. It is one of the biggest amusement parks in the country and it was opened in the year 1991.
Nicco Park is more popularly known as Jheel Meel. It is the ultimate fun and entertainment destination for kids as well as adults. It draws huge crowds on the weekends, as it serves as the perfect place for relaxing mind, body and soul. It takes you into the world of fantasy and imagination. It provides wide choices of fun rides to choose from. To name a few, we have the Toy Train, Cable Car, Tilt-a-Whirl, Water Chute, Water Coaster, Flying Saucer, Pirate Ship and Moonraker.
For nature lovers, it is truly a feast for eyes. Its main highlights include the beautiful rose garden and the food park, where you can enjoy the mouthwatering yummy dishes. Popular cuisines include North Indian, Bengali, South Indian and Chinese fast food. Today, Nicco Park enjoys the status of being the first amusement park of the world that has obtained ISO 9002 certification from a famous European Certifying Authority.