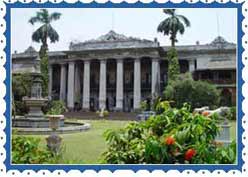 Location:
C.R. Avenue in north Calcutta at Muktaram Babu Street, Chorabagan
Year of construction:
1835
Marble palace of Kolkata, India is a must visit tourist attraction spot. Built in the year 1835 by Rajendra Mallick, it is an exquisite art gallery. Marble palace houses the marvelous objects of art, sculptures, pictures & oil paintings. Its major highlight includes the Reuben's masterpieces. You can also find the original paintings of Rembrandt, Reynolds and Van Goyen etc. Calcutta marble palace is the one of its kinds and consists of exquisite pieces of art. It also has a zoo, where you can find different kinds of birds and animals. Infact, it has a rare collection of birds.