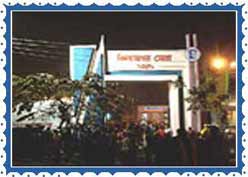 Time:
December- January
Venue:
Kolkata Maidan
Significance:
it is celebrated to spread the teachings of Ishwar Chandra Vidyasagar
Vidyasagar mela is celebrated in the remembrance of Ishwar Chandra Vidyasagar. The basic aim is to spread his teachings and social messages. Calcutta Vidyasagar Mela also attempts to showcase the cultural aspects of the state. The special features of the Vidyasagar Mela Kolkata India consist of the health camps and seminars. Ishwar Chandra Vidyasagar was a multifaceted personality who made a significant contribution in virtually all aspects of Indian life then be it education, culture, religion etc.
This unique mela was launched for the first time in Calcutta in the year 1994. It was held at the Maidan of Kolkata. The fair is mainly held as a part of social welfare to spread awareness among the people through the systematic spread of education and participatory developmental programmes. It also throws light on the folk cultures of different districts. Cultural competitions consisting of dance, song, drawing, extempore etc are conducted to promote kids. Also medical services are provided in this fair.