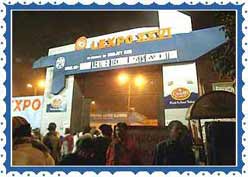 Time:
December-January
Venue:
Kolkata Maidan
Significance:
it displays the various products and technologies of leather industry
Lexpo fair was conducted for the first time in the year 1977. It was launched by the Indian Leather Technology Association. It is a platform that allows not just the big players but also the small-scale leather industries to exhibit their products and technology. Calcutta leather Lexpo fair usually takes place during the period between December-January at the maidan of Kolkata. Read on to know more about Lexpo fair of Kolkata India:
The participants of this stupendous fair include several leather production houses and leather technology schools from different parts of the country. The main aim of this fair is to give a fair chance to the small-scale industries to come forward and display their specialties. Also, it helps to create awareness among masses about the utility of leather.