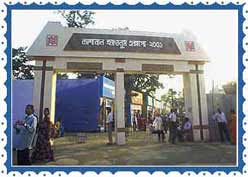 Time:
December-January
Duration:
21 days
Venue:
Maidan in Kolkata
Significance:
it acts a platform for showcasing all handloom products
Handloom expo is hosted every alternate year in the Kolkata Maidan. It was initiated long back in the year 1982. Calcutta handloom expo is a 21 days long event that gives a fabulous opportunity to the people of Calcutta as well as the tourists to shop anything from bed sheets to clothes at the most reasonable prices. Handloom expo of Kolkata India has been attracting more and more people every year. It is sponsored by the State Govt with the support of Central govt.
The fair has been continuously getting a very good response from public and participants. The fair consists of nearly 130 participants, who get a superb chance to showcase their exquisite handloom products. The participants can be grouped under three broad categories, namely, state level upper society, primary society and national level organization. The fair provides a golden opportunity to Calcuttans to get well versed with a vast range of handloom products.