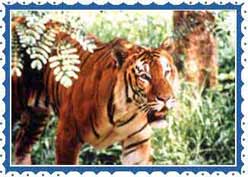 Location:
south of Kolkata
Highlights:
famous tiger reserve
Sunderbans is a very famous wildlife sanctuary of our country. It is the habitat of the Royal Bengal Tiger and owing to this fact; it is also referred to as Sunderbans tiger reserve. In the Calcutta Sunderbans national park, you can find the estuarine crocodile, wild boar and several varieties of birds and snakes. It is located on the south of Kolkata, India and stretches till Bangladesh. Also, Sunderbans is the largest delta of the world formed by the unification of three rivers-the Ganga, Brahmaputra and Meghna.
It is spread over an area of 2,585 square kms, out of which the core area of 1,330 square kms is formally declared as the world heritage site and a national park. Apart from the Bengal tiger, it also houses other wildlife animals like monkeys, herons, spotted deer, kingfishers, wild pigs and white-bellied eagles. Sundarbans wildlife sanctuary in Kolkata is just an apt destination for ornithologists and bird watchers.