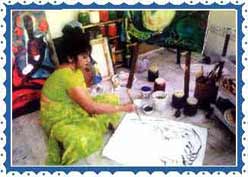 Birla Academy of Art & Culture came into existence in the year 1966. Situated at Rabindra Sarobar, Kolkata, it is a systematically maintained art gallery that depicts the cultural heritage of India in the most beautiful manner. It showcases the Indian modern art and gives an impetus to creativity and talent. Calcutta Birla Academy of Art & Culture houses the mind-blowing paintings of the medieval period, woodcarvings, archaeological manuscripts, textiles and ancient Indian sculptures etc. Birla Academy of Art & Culture of Kolkata, India boasts of its huge collection of sculptures and manuscripts dating from 2nd to the 19th century AD.
The sculpture collection at the Birla Academy of Art and Culture dates from the 2nd to the 19th century AD. South Indian sculpture, especially from the Chola and Vijayanagara empires, are also represented. Another collections, a granite dancing of 12 century Chola images of Ganesha and Shiva as Jnana Dakshinamurti are also displayed. From Vijayanagara comes a seated Kali with all eight arms intact. Among the marvellous pieces from Rajasthan are a green limestone bust of Vishnu and three panels in the same medium showing Ganesha, Krishna and Saraswati among devotees.
The museum boast a collection of miniature and manuscripts. The amusing manuscripts include a 1811 Persian translation of the Mahabharata, the collection of 19th century Hafiz gazals in the Mughal style and a zerox of the Shabnama. It also houses the 13th century Jain palm leaf folios, which are related from Bundi and Kota. Two different Sikh school exhibits are a miniature of Krishna and an illustrated Urdu manuscript on farming. Among the miniature-paintings from Rajasthan, a lovely series on ragas, otherwise the Krishna theme iredominates are also held. An elegant miniature rom Kangra of a seated couple draped in shawls, captures the mood of Magh with its brilliant composition and subdued colours.
Other miscellaneous objects in the museum are like metal satuettes, book covers in papier mache and silver gilt and old textiles like jamewar shawls, Banaras brocade, Baluchar and Dacca saris and a silk pichhwai from Rajasthan
Nearby enchanting attractions From Birla Academy, you can watch its nearby spots like Ramkrishana Mission Institute of Culture, Sarobar Stadium, Rabindra Sarobar, Lake Market and Japanese Buddhist Temple.
DISPLAY OBJECTS :
Paintings of the medieval period, modern art and some archaelogical manuscripts, wood carvings, textiles, terracottas, Indian and International modern art. specemens, anthropology, ancient Indian sculputures, miniature paintings,
Situated on what is popularly known as Southern Avenue, the Birla Academy is a veritable treasure trove not just for the art addict, but also for those keen to get a bird's-eye view of Kolkata's Rabindra Sarovar - a quaint oasis complete with lakes and greenery, in the heartland of Calcutta. Its exhibits include contemporary and medieval paintings, sculptures, bronzes and terracotas. Art exhibitions are a regular feature of the Birla Academy's itinerary.
An oddity to watch out for - the Academy is closed on Tuesdays!